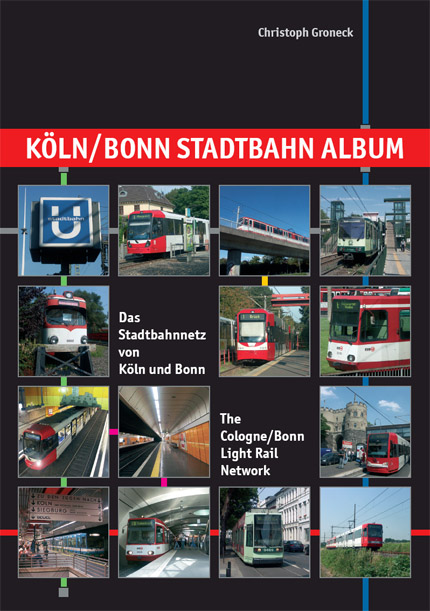 Christoph Groneck

Köln/Bonn Stadtbahn Album:
Das Stadtbahnnetz von Köln und Bonn
The Cologne/Bonn Light Rail Network
| | |
| --- | --- |
| In Köln und Bonn gibt es zwar wie im Ruhrgebiet auch keine 'echte' U-Bahn, dennoch findet man hier eine Vielzahl von unterirdischen Bahnhöfen, die man zu den interessantesten U-Bahnhöfen in Deutschland zählen muss. Neben diesen Stationen stellen wir Ihnen in diesem Band auch die oberirdischen Anschlussstrecken vor, erzählen Ihnen, wie die Stadtbahnen aus den Straßenbahnen entstanden sind und was noch alles geplant war bzw. heute noch zu erwarten ist. | Although there is no 'real' metro system in the Cologne/Bonn area, this region boasts some very interesting underground stations. In this book you will learn everything about the history of this hybrid tram/metro system called the Stadtbahn, which includes interurban railways, full-metro sections and also some on-street tramway stretches. |
Erschienen am 1. Dez. 2005 | Published 1 Dec 2005
144 Seiten | pages
3 Netzpläne | Network maps
ca. 350 Farbfotos | colour photos
Text deutsch & English
ISBN 3 936573 07 7
Vergriffen | Out-of-print!
< Zur Verlags-Website | Go to the publisher's website
MUSTERSEITEN | SAMPLE PAGES
Klicken Sie auf das Bild, um eine Vergrößerung zu sehen (PDF)
Click on image to enlarge (PDF)
< Zur Verlags-Website | Go to the publisher's website
2005 © Robert Schwandl Verlag