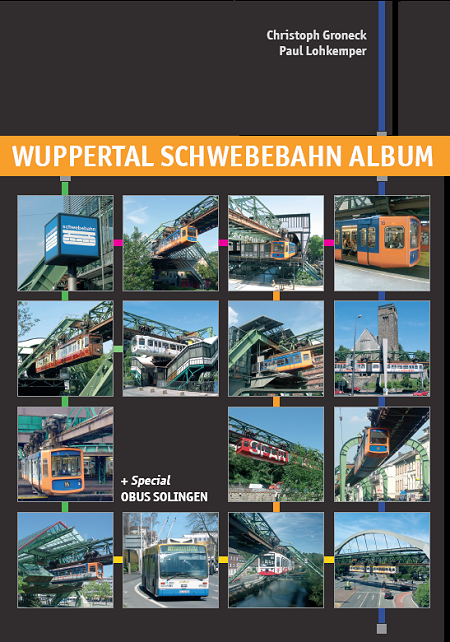 Christoph Groneck + Paul Lohkemper

Wuppertal Schwebebahn Album
Seit über 100 Jahren verkehrt in Wuppertal eine der kuriosesten Schnellbahnen der Welt. Meist schwebend über der Wupper verbindet sie alle Stadtteile der 1929 aus mehreren Städten gebildeten Großstadt Wuppertal. In diesem Buch erfahren Sie alles über die Geschichte der Schwebebahn, reichlich illustriert mit Bildern zu allen Stationen.

In einem Sonderkapitel stellen wir Ihnen den Obus-Betrieb im benachbarten Solingen vor.

For more than 100 years the Schwebebahn has been running through Wuppertal. This is without doubt one of the world's most peculiar mass transit systems, as it actually floats above the River Wupper, which winds through the city. In this book, which is illustrated with numerous photos of all the stations, you will learn all about the history of this transport system.

In a special chapter you'll learn about the trolleybus system in the neighbouring town of Solingen.
Erschienen am 25. Mai 2007 | Published on 25 May 2007
64 Seiten | pages
Netzplan | network map
ca. 160 Fotos | photos
Text deutsch & English
ISBN 978 3 936573 15 2
SORRY! Nicht mehr erhältlich! | Out-of-print!
< Zur Verlags-Website | Go to the publisher's website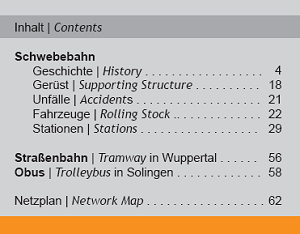 MUSTERSEITEN | SAMPLE PAGES
Klicken Sie auf das Bild, um eine Vergrößerung zu sehen!
Click on image to enlarge!
< Zur Verlags-Website | Go to the publisher's website
2005 © Robert Schwandl Verlag