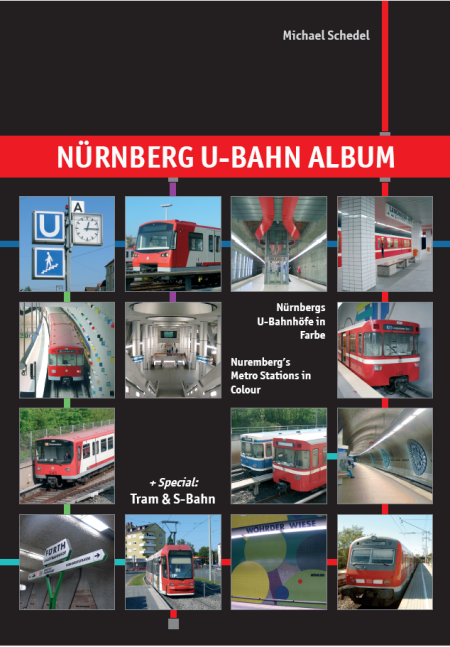 Michael Schedel*

Nürnberg U-Bahn Album:
Nürnbergs U-Bahnhöfe in Farbe
Nuremberg's Metro Stations in Colour
+ Special Straßenbahn/Tram & S-Bahn
| | |
| --- | --- |
| In Nürnberg verkehrt bereits seit 1972 Deutschlands vierte 'echte' U-Bahn. Mit Inbetriebnahme der vollautomatischen, fahrerlosen Linie U3 im Jahr 2008 stellt sich Nürnberg an die Spitze des technologischen Fortschritts im ÖPNV. Gleichzeitig bietet die fränkische Metropole durchweg interessante U-Bahnhöfe, die wir Ihnen in diesem Buch vorstellen wollen. | Nuremberg was the fourth city in Germany to have a 'real' metro system, opened in 1972. The completion of the first fully automatic, driverless metro line in 2008 places the Nuremberg U-Bahn among the most advanced rapid transit systems in the world. The city also boasts many spectacular stations, all of which are shown in this book in full colour. |
Erschienen am 18. Januar 2007 | Published on 18 January 2007
96 Seiten | pages
2 Netzpläne | Network maps
Gleisplan | Track map
ca. 300 Farbfotos | colour photos
Text deutsch & English
ISBN 978 3 936573 11 4
17,50 EUR >>> Jetzt nur noch | Now only 4,50 EUR
* Michael Schedel ist der Autor der hervorragenden Website www.cityverkehr.de

< Zur Verlags-Website | Go to the publisher's website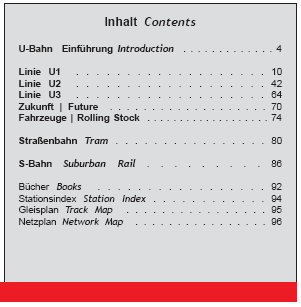 MUSTERSEITEN | SAMPLE PAGES
Klicken Sie auf das Bild, um eine Vergrößerung zu sehen!
Click on image to enlarge!
< Zur Verlags-Website | Go to the publisher's website
2005 © Robert Schwandl Verlag