Andrew Phipps


U-BAHN, S-BAHN & TRAM IN LONDON

Städtischer Schienennahverkehr in der britischen Hauptstadt
Urban Rail in the British Capital

London Underground - Docklands Light Railway - London Overground - National Rail - London Trams

Erschienen am 17. Mai 2021 | Published on 17 May 2021

160 Seiten | pages
Detailierte Netzpläne | Detailed network maps
ca. 300 Farbfotos | colour photos
Text deutsch & English
Robert Schwandl Verlag

ISBN 978 3 936573 61 9

19.50 EUR

Andrew Phipps


LONDON UNDERGROUND ALBUM

Vol. 1 Subsurface Lines

Circle Line | Hammersmith & City Line | Metropolitan Line | District Line

Alle Bahnhöfe in Farbe | All Stations in Colour

Erschienen am 24. Oktober 2022 | Published on 24 October 2022

160 Seiten | pages
ca. 450 Farbfotos | colour photos
Text deutsch & English
Robert Schwandl Verlag

ISBN 978 3 936573 71 8

19.50 EUR

Die britische Hauptstadt bietet Freunden des städtischen Schienennahverkehrs viel mehr als die weltweit bekannte "Underground" bzw. "Tube". Als "Overground" verkehrt eine Art S-Bahn, doch fast genauso dicht ist das übrige Netz an meist radialen Vorortlinien. Manche davon werden bald in die "Elizabeth Line" (Crossrail) integriert. Dazu kommen die fahrerlose "Docklands Light Railway" sowie in Croydon, im Süden von Greater London, eine Straßenbahn, die teils ehemalige Bahnstrecken nutzt. Der Londoner Autor Andrew Phipps gibt einen Überblick über die Entstehungs­geschichte aller Schienenverkehrsmittel sowie über die dort eingesetzten Fahrzeuge. Am Ende des Buchs findet der Leser detaillierte Netzpläne des gesamten Großraums von London, in dem rund 9 Mio. Menschen leben.

Im ersten Band unserer Trilogie werden alle Bahnhöfe der sog. "Subsurface"-Linien vorgestellt, d.h. der Circle, Hammersmith & City, District und Metropolitan Line. Darunter die ältesten U-Bahnhöfe der Welt aus dem Jahr 1863, als die Züge noch von Dampflokomotiven durch die Tunnel gezogen wurden. In zwei weiteren Bänden folgen in den kommenden Jahren die Stationen der "Tube"-Linien.

The British capital has much more to offer urban rail enthusiasts than just the world-famous 'Underground' or 'Tube'. There is also the 'Overground' which provides an S-Bahn-style ­service. It is complemented by a series of radial suburban lines, some of which will soon be part of the 'Elizabeth Line' (Crossrail). In addition, there is the driverless 'Docklands Light Railway' as well as a tram system that serves Croydon in South London. London-based author Andrew Phipps presents every means of urban rail transport, giving an overview of the respective history of each system and the vehicles used. At the end of the book, the reader will find detailed maps of the entire Greater London area, which is home to some nine million people.

The first volume of our trilogy includes all the stations of the so-called "Subsurface Lines", i.e. the Circle, Hammersmith & City, District and Metropolitan Lines. Among these are the oldest underground stations in the world dating from 1863 when steam locomotives started pulling trains through the tunnels. The stations of the "Tube Lines" will follow in two future volumes.
---
U-BAHN, S-BAHN & TRAM IN LONDON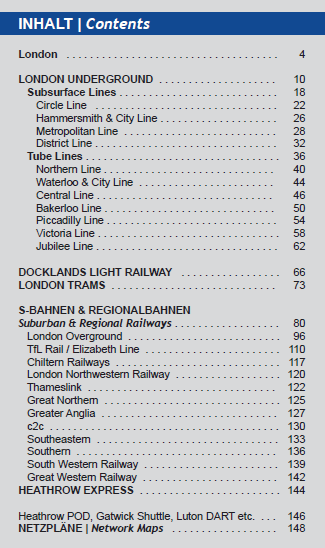 MUSTERSEITEN | SAMPLE PAGES
Klicken Sie auf das Bild, um eine Vergrößerung zu sehen
Click on image to enlarge
Und als Ergänzung zu unserem London-Buch: | And as a supplement to our London book: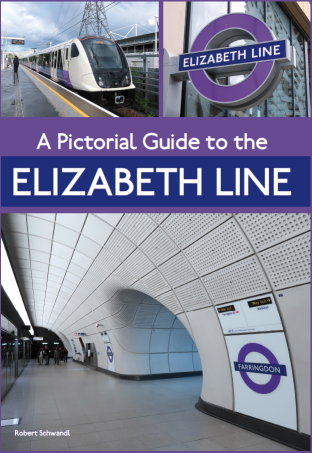 Nur erhältlich als Print-on-Demand-Ausgabe! | Only available as a print-on-demand edition!
Click here for more information!
---
Ähnliche Bücher sind in dieser Reihe bereits erhältlich: | Similar book are already available in this series:
Geplant | Planned: NEW YORK CITY - etc.
---
Click here for a full bibliography about London's Urban Rail Systems
---
< Zur Verlags-Website | Go to the publisher's website
< Zur Verlags-Website | Go to the publisher's website
2019 © Robert Schwandl Verlag