Leider inzwischen vergriffen | Now unfortunately no longer available:
Schwandl's

Tram Atlas Deutschland 2012
Detaillierte Netzpläne aller deutschen Straßenbahnen, Stadtbahnen, U-Bahnen & Obusse
Detailed Maps of all German Tram, Light Rail, Underground Networks & Trolleybus Systems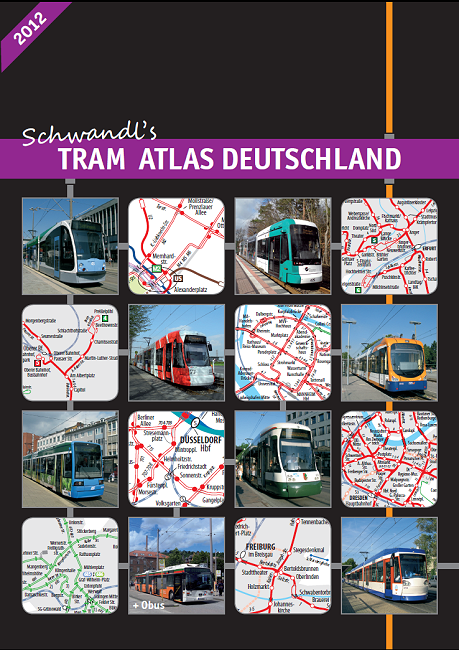 Das Buch bietet von allen deutschen Straßenbahnbetrieben einen detaillierten farbigen Netzplan mit Haltestellen, eingleisigen Abschnitten, Wendeschleifen, anderen Bahnstrecken usw. Dazu werden in Tabellenform die Eckdaten der einzelnen Betriebe geliefert, wie Streckenlänge, Spurweite, Fahrzeugtypen, Einwohnerzahl, Betreiber. Mit dabei sind neben den über 50 Straßenbahnbetrieben auch Stadtbahnen und U-Bahnen sowie die drei deutschen Obusbetriebe. Für jede Stadt gibt es außerdem zahlreiche Fotos mit aktuellen Fahrzeugen.
This book includes a detailed colour map featuring stops, single-track sections, turning loops, other railway lines, etc. for each of the numerous German tram systems. Basic data like route length, track gauge, vehicle types, city population, operator, etc. is provided in a box. Besides the more than 50 tram systems, light rail and U-Bahn systems as well as Germany's three trolleybus systems are also covered. Each chapter is enhanced with photographs of the present rolling stock.
Erschienen am 7. Juni 2012; dritte, überarbeitete Ausgabe
Published on 7 June 2012; revised third edition
144 Seiten | pages
ca. 70 Netzpläne | Network maps
ca. 150 Farbfotos | colour photos
Text deutsch & English
ISBN 978 3 936573 33 6
14,50 EUR

< Zur Verlags-Website | Go to the publisher's website
MUSTERSEITEN | SAMPLE PAGES
Klicken Sie auf das Bild, um eine Vergrößerung zu sehen!
Click on image to enlarge!